Barkers Dog Grooming Auckland
Affordable Stress Free Dog Grooming West Auckland (Henderson)
| | |
| --- | --- |
| Posted on 19 February, 2018 at 21:55 | |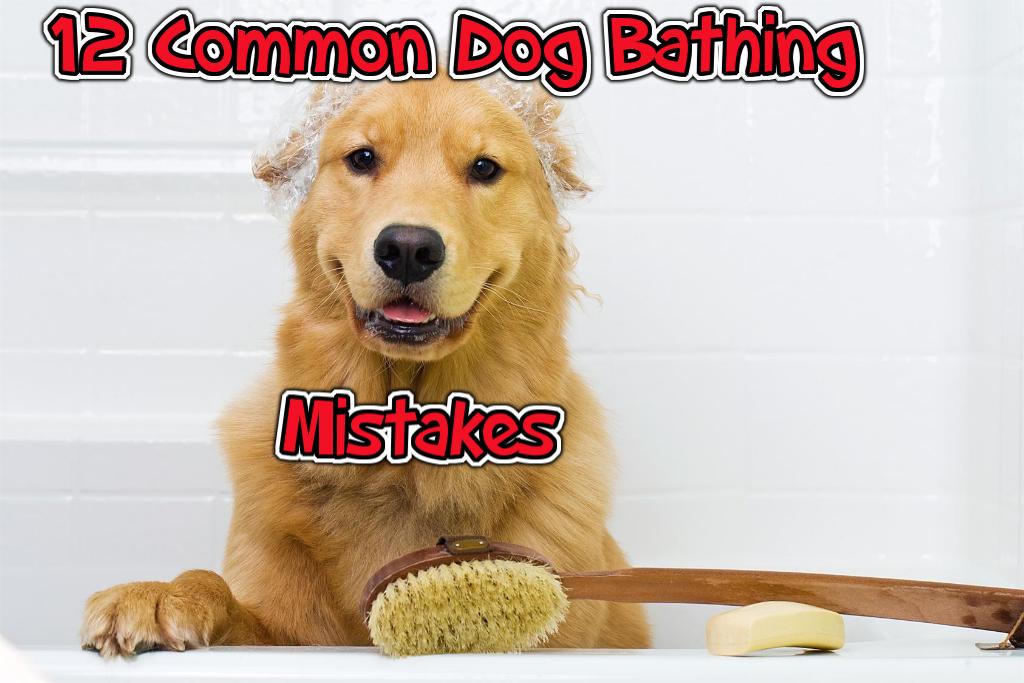 Taken from https://barkhow.com/how-to-bathe-a-dog-at-home/" target="_blank">Barkhow.com
Some dogs enjoy having a bath but for the vast majority bath time is a little stressful and for some, it is something to be avoided at all costs. To make giving your dog a bath easier and less stressful it is best to avoid these common mistakes.
 
Not getting organized first
Have everything you are going to need organized and within reach before you start. There is nothing worse than having a soaking wet dog in the bath and you can't reach a dry towel. It is guaranteed that you and the room are going to get wet.
 
Not brushing first
It is important to give your dog a brush before you bath them. Any knots or tangles will absorb the water and tighten making it much higher to remove them once the dog is dry. With a double coated dog remove as much of the dead undercoat as it will take a lot longer for them to dry, will leave a lot of fur in the bath making for more mess to clean up and may also cause matting. Avoid brushing your dog when they are wet as this is more likely to cause brush burn and damage to the skin. Once they are fully dry after the bath give them another brush to ensure there are no tangles and it will help to remove any remaining undercoat.
 
Bathing too often or not enough
How often you bath your dog will depend upon a number of factors such as how dirty or smelly they get and the type of coat. Bathing too often can strip the natural oil from their coat causing dry and sensitive skin. If you are bathing more often than every three or four weeks I would recommend using a shampoo that is formulated for frequent bathing such as a natural or soap free shampoo. Not bathing often enough results in your dog not getting used to the whole process and probably not meeting their grooming requirements are probably not being met.
 
Bathing your dog while over excited or energized.
Give your dog a walk and some exercise with a period of relaxation before the bath to ensure they are calm and not over-excited. While doing the bathing talk to them in a calm relaxed manner to give them reassurance. Talking to your dog in a high-pitched excited manner will reinforce and give energy to an already excited or anxious state.
 
Using a human shampoo or conditioner.
You should never use your own shampoo on your dog as dog fur has a different pH level than human hair and the harsh chemicals in a lot of human shampoo can irritate the skin.. Select a shampoo that is suitable for your dog's needs. For more on shampoo selection refer to bathing section.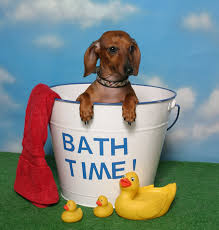 Wrong water temperature
The natural body temperature of a dog is higher than that of a human so you don't want to have the water as hot as you would for your own shower. The ideal temperature is lukewarm around room temperature. If the water is too hot or even too cold it will create a negative experience for your dog making bath time even less fun for them than is probably already is. Test the water temperature on your forearm first to test it as this area of your skin is more sensitive to temperature than your hands.
 
Harsh water pressure
If using a hand-held shower head to bathe your dog, which is probably the easiest way the sound and spray of water can frighten and unsettle your dog. If you shower has an adjustment to decrease or increase the water flow set it at a level that is sufficient to wet the coat but not so full on that water is hitting your dog and spraying everywhere. If you don't have this adjustment compatibility with your shower you can use allow the water to hit your opposite hand before hitting the dog.
 
Getting shampoo in your dog's ears, eyes or nose.
Having their face and head wet is often the most unpleasant part of bathing for your dog. Some people avoid washing the head altogether. It is important that this area is cleaned as it often is the smelliest part of a dog as we often pat them around the head with odors and oils from our own skin transferring to them along with food and water making the mouth and chin area smell.
It is important to not get shampoo in the eyes as this can sting causing irritation and harm to the eye and even something called dry eye. To avoid this I use a tearless shampoo which allows me to give the face a good clean without this being a problem.
To avoid getting water in the ears you can put cotton balls in the ears before the bath. Just remember to remove them after the bath. Ensure that you cover the ear up fully before running water over the head by using your thumb to lay the ear flat with the head directed downwards and wetting just that side of the head.
When rinsing under the chin hold your dog's muzzle up and carefully wash shampoo from this area to avoid water going in the nose.
 
Wetting the head first.
The best place to start wetting your dog is at the rear to avoid giving them a fright and work your way up the body to the back of the head. Many dogs will try to shake once their head is wet. If your dog is prone to shake water everywhere perhaps leave wetting and washing the head until the end.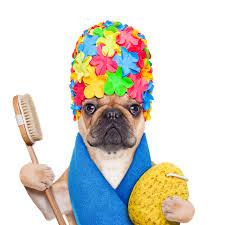 Poor soap application
It is important to distribute the shampoo even and all through your dog coat including giving the paws and rear a good clean. Many shampoos are highly concentrated so it often a good idea to mix in a separate bottle with water with a mix of around 10 to 20 parts water to 1 part shampoo dependant on the individual shampoo. Work the shampoo into the coat by going with the lay or direction of the coat. Repeatable going against the coat may cause the coat to stand up or lay backward when dry and can even cause ingrown hairs. Actively work the shampoo into the coat all over for a couple of minutes or more. Then thoroughly rinse all the shampoo out
 
Not rinsing properly
Ensure that you make sure to fully rinse all the shampoo out. If not fully rinsed you will often see a residual on the coat and it may irritate your dog's skin. If your dog gets wet again it will reactivate the shampoo and start to lather.
 
Harsh drying technique
A lot of dog owners quickly towel down their dog but it is important to get the coat as dry as you can. Use the towel to gently squeeze the fur and pull out as much of the water as you can. Your dog should be damp but not dripping wet. If you are going to blow dry your dog ensure that the air temperature is not too hot by having your opposite hand there so you can feel the heat. Start at the lower back of your dog so as not to frighten them with the dryer starting and work your way around dry drying each area to near dry before moving to the next. This is more efficient than randomly moving the dryer all around. Once all areas are mostly dry go over the dog again just to ensure that all dampness is gone.
If you are wanting to groom you own dog at home check out https://barkhow.com/how-to-bathe-a-dog-at-home/" target="_blank">Barkhow.cohttps://barkhow.com/how-to-bathe-a-dog-at-home/">http://https://barkhow.com/how-to-bathe-a-dog-at-home/m or tips.
 
 
 
 
Categories: None
/