Barkers Dog Grooming Auckland
Affordable Stress Free Dog Grooming West Auckland (Henderson)
| | |
| --- | --- |
| Posted on 26 November, 2017 at 22:15 | |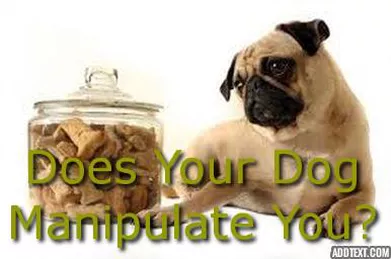 We all love our dogs to pieces, but many of us don't release just how good our dogs are at getting what they want from us. A  study published in the journal Animal Cognition lead by Marianne Heverlein has found that dogs are able to deceive us in order to get something they want and can figure out how to do this very quickly.
 
 
 
Marianne Heverlein's night time routine with her dogs was to let her dogs out before going to bed to relieve themselves. Once they came back inside she would give them a treat. One day she noticed that one of her dogs would pretend to go toilet in order to get the treat. This prompted her to conduct an experiment in order to study this behaviour. Her research team from the University of Zurich set up the experiment using 27 dogs in a three way choice test to see if the dogs where able to fool a human competitor. During the test the dogs experienced the role of their owner who was cooperative and two unfamiliar humans, one acting cooperatively by giving food and the other being competitive by keeping the food for themselves.
 
Three boxes were set up, one containing a  favoured tasty treat, the second a less value treat and the third box was empty.After having lead one of the handlers they had the possibility of leading their cooperative owner to one of the food locations. The dog would have a direct benefit by misleading the competitive handler since it would have another chance to receive the preferred food from their owner. On the first day the dogs lead the cooperative handler to the treat more often than the competitve handler. On the second day they lead the competitve handler to the box containing the preferred treat less and more often to the empty box. The results showed that the dogs distinguished between the cooperative handler and the competitive handler and had the flexibility to adapt their behaviour and use tactical deception. This ability was learned very quickly compared to similar studies involving primates which took upward of hundred trials before they made this association and acted accordingly. The dogs showed they have the cognitive capacity to use such a stratgegy and benefit themselves and had good social reasoning abilities. They were actually solving the problem and not just learning by simple association.
 
With my own little yorkie, Asia, I have seen the same ability. I keep her treats in a cupboard by the door. She will go to the door indicating that she is wanting to go out. Once I stand up to open the door for her she sits beneath the cupboard and looks at me licking her lips. If you have seen similar tactical deception in your dogs behaviour mention it in the comment. I would be interested to see the different ways this ability shows itself.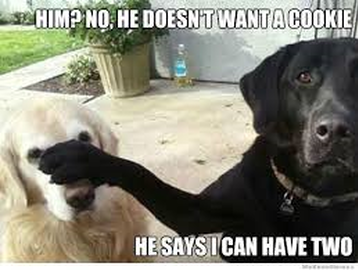 Categories: None
/